Thanks Fab & Furious and Miss Elle for this kick ass blogger award!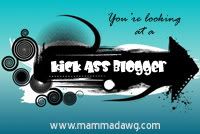 Do you know any blogger that kick ass?
Maybe they've got incredible, original content. Or they're overflowing with creativity. Is it someone that helps you become a better blogger? Or a blogger friend you know you can count on? Or maybe it's someone who simply inspires you to be a better person… or someone else who sends you to the floor, laughing your ass off.
Whatever the reason may be, I'm sure you know at least a couple of bloggers that kick ass. Well…why not tell 'em so?
Spread some luv!
* Choose up to 5 bloggers that you feel are "Kick Ass Bloggers"
* Let 'em know in your post or via email, twitter or blog comments that they've received an award
* Share the love and link back to both the person who awarded you and back to www.mammadawg.com
* Hop on back to the Kick Ass Blogger Club HQ to sign Mr. Linky then pass it on!
And here are some blogs who I think kick-ass:
1. Emcee – You're a great blogger friend, sweet and thoughtful! To me you definitely kick ass!
2. Bridge – you travel to all these lovely places and you have a way of sharing your experience that makes me feel like I'm there travelling with you. 

3. Gaby – You know I love your pictures and you make me want to pick up my camera and practice taking portraits. Cheers!

4. Arjaeuse – For being a good ambassador of Philippine tourism, for always helping me ease my homesickness by posting your travels and pictures of the beautiful Philippines! You certainly deserve this kick ass award! 
Mwah, mwah & another BIG mwah to Fab & Furious and Miss Elle. 
Here's hoping that all the people I gave the awards to will pass it on to their deserving blogger friends, Cheers =)